Southern
Sonoran Destinations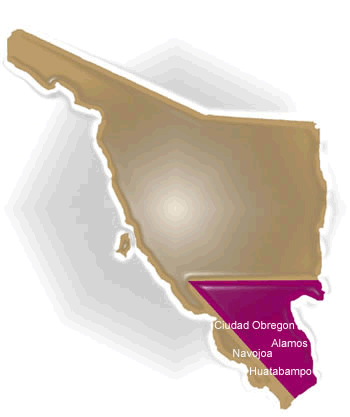 Southern Sonora, Mexico
The southern border of Sonora, Mexico adjoins the Mexican state of Sinaloa.  The region is a major agricultural center, expecially in the cities of Ciudad Obregon and Navojoa.
The jewel of the southern portion of Sonora is Alamos, Sonora, commonly known as the "City of Gates." The beautiful natural scenery and historic colonial buildings attract thousands of tourists every year, and Alamos is home to a community of expatriate Americans who enjoy its fascinating environs.
Southern Sonora also has hundreds of miles of coastline in areas like Huatabampo and Empalme, as well as the beautiful colonial town of Alamos, a favorite destination of tourists to the area.
The southernmost part of Sonora features a transition of ecosystems from a desert to more of a tropical environment, which offers a variety of opportunities to explore and photograph the area's natural environmental beauty and biological diversity.