Hotel Suites Kino in Hermosillo
Close to downtown tourist attractions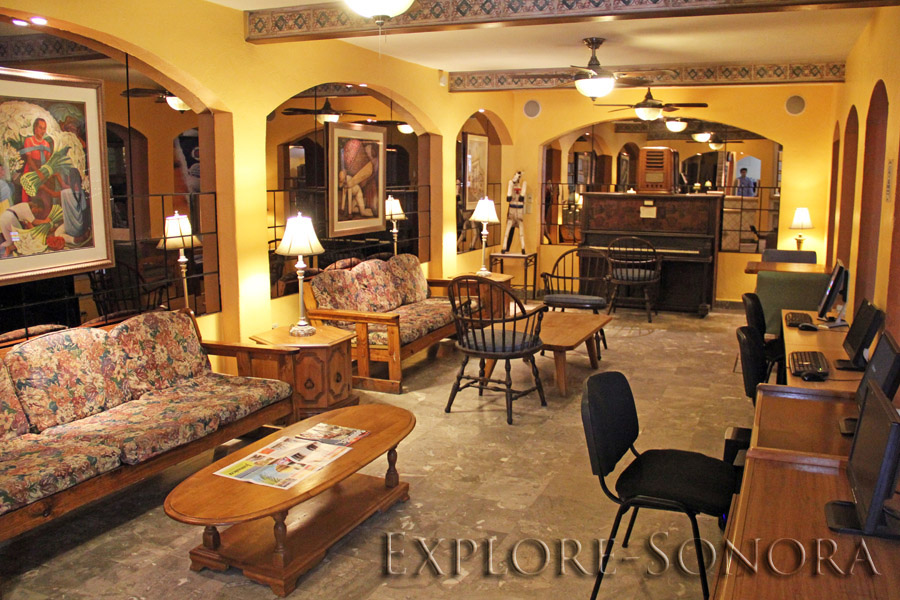 Hotel Suites Kino Hermosillo
Calle Pino Suárez 151
Colonia Centro
Hermosillo, Sonora, Mexico 83000
+52 (662) 213-3131
Hotel Suites Kino is a historic hotel that is conveniently located within walking distance of the main downtown Hermosillo tourist attractions.
The Kino offers a variety of accommodation levels, from their basic room to one- and two-bed suites that include a microwave and mini-refrigerator. The rooms are clean, quiet and comfortable.
Relax in the comfort of their comfortable lobby sitting area as you check your email or browse the internet on one of their business center computers. Or connect to their secure, high-speed Wifi connection to connect to the web in your room or in one of the many sitting areas located throughout the hotel.
Or take a walk along the hallways of the Hotel Suites Kino, to see the displays of interesting historic artifacts dating back to the early days of the hotel.
And with just a two-block stroll, you can begin exploring the heart of Hermosillo, starting at Plaza Bicentenario and on to Plaza Zaragoza, the Sonora Government Palace and the beautiful Hermosillo Cathedral.
In addition to being the best-situated hotel for downtown Hermosillo walking tours, the Hotel Suites Kino also offers great room prices and discounts for multi-day stays, tour groups and other promotions.
And their staff are first-rate – extremely helpful, friendly and professional.
Wherever you stay while in Hermosillo, enjoy your visit and please let us know if you would like to share information about your travels.