Advertise with Us
High-Value Publicity on Explore Sonora
High-Impact Display Advertising on Explore-Sonora
Full-page Ad Space
Establish your web presence affiliated with the Explore-Sonora brand.

Choose your page URL

We do initial page setup
Horizontal Banner - 728x90 pixels
Page top

In-line text

Page bottom
Page Column Advertising - 300x250
A 300 x 250 horizontal linked-image ad

Pre-paid discounts:

3 months for $175

6 months for $300

1 year for $500
Page Column Advertising - 300x600
A 300 x 600 vertical tower linked-image ad

Pre-paid discounts:

3 months for $250

6 months for $450

1 year for $800
Purchase advertising space on Explore Sonora
Whether you sell products or offer services, we can help connect you with consumers who are interested in Sonora, Mexico and all it has to offer – travel, experiences, and fabulous destinations in the desert, on the coast and in the semi-tropical south.
We offer stunning display advertising targeted to high-traffic pages with a focus on the potential customers who are looking for what you have to offer, be it travel services, transportation, lodging, equipment or other products and services of value to the Sonora traveler.
Select a large horizontal banner for placement at the top or bottom of a page, a vivid side-column ad that sits next to compelling and photos, or a full-page ad where you can establish a web presence that either serves as your main internet page or a linking page to increase the search-engine optimization (SEO) of your website.
We also offer discounts for multiple ads, and we do ad layout and setup free of charge for all ad purchases of 3+ months.
We at Explore-Sonora also support our advertisers, so you can count on additional non-compensated promotion to increase your SEO, business presence and sales. Like photos and stories about your company and the great products or services you offer.
Sound interesting? Make the first step today to increase your sales by advertising on Explore-Sonora by filling out our online advertising request form.
We look forward to hearing from you!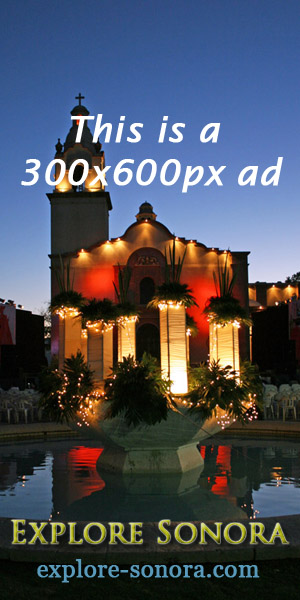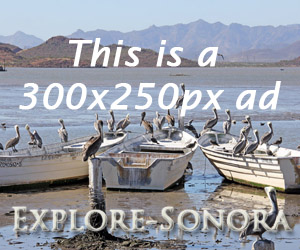 Catch the reader's attention with a page-side, in-column image ad with a direct link to your landing page. Prices vary depend on the size of the ad:
300 x 250 Horizontal
300 x 600 Vertical
We also support our advertisers by providing additional information about your company and the products and services you provide, in the form of blog posts, photos and other compelling web-based content.
Get started by filling out our online advertising request form, to see how Explore-Sonora can help your business.
This eye-catching banner can be implemented at the top of a page, in between page content modules or at the bottom of a page.
As with other display advertising, we do ad layout for all ad 3+ month ad orders, and offer discounts on multi-ad purchases.
Fill out our online advertising request form to get started today!
This option essentially provides your own web page that is affiliated with the Explore Sonora brand. Market yourself on the web as Explore-Sonora.com/yournamehere
The page will still have the page top and bottom Explore-Sonora information and menus, but the rest of the real estate is yours. Add a contact form that feeds directly to your email, a calendar, graphics or any number of other add-ons.
We will even help with the initial setup of the page.
Fill out our online advertising quote request form to get started.
We are open to suggestions for other sizes of graphics banners, as long as they do not interfere with the page content flow.
Do you have an idea for advertising you would like to feature on Explore-Sonora? Let's talk!
Fill out our online advertising request form to get started.
Request Advertising on Explore-Sonora