Ecotourism Organizations
Environmental Tourism in Sonora
Eco-Tourism Organizations in Sonora, Mexico
Read more about Ecotourism in Sonora
Dive Zone Ecotours
Certified diving instructor, based in Hermosillo. Visit their Facebook page.

Ecoturismo del Noroeste
Ecoturismo del Noroeste is based in Hermosillo, and offers a variety of ecotourism, ethnotourism, and intercultural tourism trips to ecological preserves and other natural areas in the state of Sonora. In addition, the organization provides ecotourism-related consulting services, workshops, conferences and free lectures on environmental education. Click here for more information.
EcoTurismo Caborca (Guias Turisticos Caborca)

Based in Heroica Caborca, Sonora, this organization offers guided tours of areas around the municipio of Caborca and Pinacate.  Click here to see their Facebook page.
Ecoturismo Tehuelibampo
The Eco-Museum at Tehuelibampo, Sonora is a center for education about the history and culture of the Yoreme Mayo people of Southern Sonora. Located not far from the city of Navojoa, it features beautiful murals and wall paintings, and a nature hike through a rillito lined with ancient rock art. Click here for more information.
EcoAventura Tours (EcoAventura Hermosillo)
Visit their Facebook page.
EcoTurismo Vermar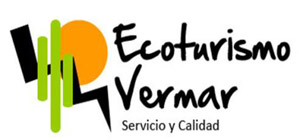 Bacanora # 434
Simon Bley y Arizona
Hermosillo, Sonora 83103
+52-662-264-0695
Based in Hermosillo, this ecoturism group sponsors trips as far north as Rocky Point and as far south as Chiapas. Its trips include activities like kayaking, rapelling, hiking, snorkeling, mountain biking and other outdoor activities. Trip prices include transportation, a guide / instructor and personal injury insurance. Visit their Facebook page.
GeoKayaks
+52 (647) 101-0590
+52 (647) 404-5265
Huatabampo-based Geokayaks provides kayak tours in the Rio Mayo, to the dunes of Médanos Blancos and the Moroncarit Lagoon, and kayaking with dolphins.
They also host bird watching tours of exotic birds around the magical town of Alamos and estuaries in Yavaros, Santa Bárbara and Navopatia. Additional activities include rappelling in San Bernardo and Alamos, mountain biking and trail hikes, and snorkeling from the beaches of Huatabampito.
Lobo Aventurismo
Led by outdoors enthusiasts Mauricio and Andres Bouvet, Navojoa-based Lobo Aventurismo hosts mountain biking events, mountain biking tours, free mountain biking classes, kayaking, hiking, trips to little-known places along the Sonoran coast and a variety of other opportunities for Southern Sonora eco-tourism adventure.