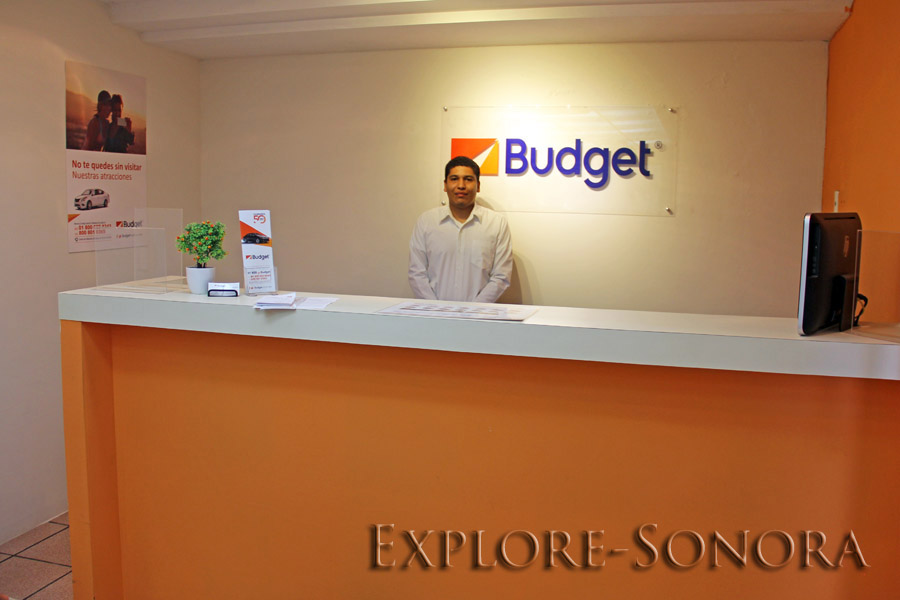 Budget has an office conveniently located at the corner of Ignacio Pesquiera (Mexico highway 15) and Independencia in Navojoa, in the Hotel Sicomoro and just across the street from the Hotel Plaza. You will see the big Budget sign in front of the Sicomoro, the rental agency is just inside the entrance to El Sahuarito, the hotel's restaurant and bar.
The office is open on Monday through Saturday from 8:00 a.m. to 1:00 p.m. They close for two hours and open again from 3:00 p.m. to 6:00 p.m. On Sunday, they are open from 8:00 a.m. to 3:00 p.m.
The Navojoa Budget office rents a variety of cars, but because it is a small agency they recommend that you make your reservation in advance so they can have the size of car you prefer ready when you arrive. If you want a spur-of-the-moment rental, the agency will have at least one car available to rent.
The local agency is still relatively new, such that it is not yet on the website or promotional materials for Budget, so you will have to make your reservation by phone or online chat.
In the US the toll-free number is (800) 801-0365 or (800) 218-7992, and from Mexico the toll-free number is 01-800-002-8343. Phone numbers for the local office are +52 (642) 421-1583 and +52 1 (642) 160-4712.
The Navojoa Budget car rental office rents vehicles based on a daily rate that includes insurance. The cars you rent from Budget Navojoa have unlimited mileage and no distance limits.And check with the office for current promotions, like special discounts and offers for weekly or other long-term rentals.
All you need to rent a car is your driver license and a major credit card, like Visa, Mastercard, American Express or Discover. They also accept debit cards that have a Visa credit card logo.
You have the option to return the vehicle to the Budget location in Navojoa, or to any other Budget location in Mexico – in Sonora, that includes Ciudad Obregon and Hermosillo.
When I asked in July 2017 about the daily rate for their smallest compact car, which would be something like a Nissan Tiida, Renault Logan or Volkswagen Vento, the price for rental and insurance was 900 pesos a day, which at the time was about $50.00 USD.
Renting a car in Navojoa is a great option for exploring the marvelous places in Southern Sonora, like Navojoa, Alamos, Huatabampo, Etchojoa and the beach at Huatabampito. And Ariel, the gentleman in the photos on this page, is a very friendly and professional agent who will help to get you on your way to experiencing the wonders of Southern Sonora.